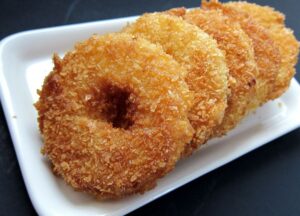 Air-fried mini pineapple upside-down cakes are a delightful twist on the classic dessert. The air fryer creates individual-sized cakes with caramelized pineapple and a moist, flavorful cake. Here's how to make them:
Ingredients:
For the Pineapple Topping:
1/2 cup brown sugar
2 tablespoons unsalted butter
1 can of pineapple rings (about 8 slices)
Maraschino cherries (for garnish, optional)
For the Cake Batter:
1 cup all-purpose flour
1/2 cup granulated sugar
1/4 cup unsalted butter, softened
1/4 cup buttermilk
1/4 cup pineapple juice (from the canned pineapple)
1 egg
1/2 teaspoon baking powder
1/4 teaspoon baking soda
1/4 teaspoon salt
1/2 teaspoon vanilla extract
Instructions:
Start by preheating your air fryer to 320°F (160°C) for a few minutes.
In a microwave-safe bowl, combine the brown sugar and 2 tablespoons of butter. Microwave for about 30 seconds, or until the butter has melted. Stir to create a caramel-like sauce.
Place a pineapple ring in the bottom of each well-greased mini cake pan or ramekin. If desired, add a maraschino cherry to the center of each pineapple ring.
Spoon the caramel sauce over the pineapple slices.
In a mixing bowl, cream together the softened butter and granulated sugar until light and fluffy.
Add the egg and vanilla extract to the butter-sugar mixture and mix until well combined.
In a separate bowl, whisk together the flour, baking powder, baking soda, and salt.
Gradually add the dry ingredients to the wet ingredients, alternating with the buttermilk and pineapple juice, beginning and ending with the dry ingredients. Mix until the batter is smooth.
Carefully spoon the cake batter over the pineapple slices in the cake pans, filling each about two-thirds full.
Place the cake pans in the preheated air fryer and cook for 12-15 minutes, or until a toothpick inserted into the center of a cake comes out clean.
Once done, remove the mini pineapple upside-down cakes from the air fryer and let them cool for a few minutes.
To serve, carefully invert the cakes onto a serving plate, pineapple side up.
These air-fried mini pineapple upside-down cakes are a sweet and tangy treat that's perfect for dessert or a special occasion. Enjoy!