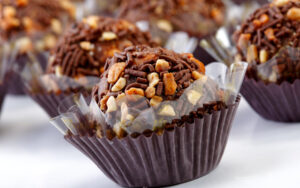 Certainly! Here's a recipe for making a decadent chocolate truffle cake in an air fryer:
Air Fryer Chocolate Truffle Cake
Ingredients:
For the Cake:
1 cup all-purpose flour
1/2 cup unsweetened cocoa powder
1 cup granulated sugar
1/2 teaspoon baking powder
1/2 teaspoon baking soda
1/4 teaspoon salt
1/2 cup buttermilk
1/2 cup vegetable oil
1 large egg
1 teaspoon pure vanilla extract
For the Truffle Topping:
1/2 cup heavy cream
8 ounces semisweet chocolate, finely chopped
1 tablespoon unsalted butter
1 teaspoon pure vanilla extract
Instructions:
Prepare the Cake Batter:

In a mixing bowl, whisk together the flour, cocoa powder, sugar, baking powder, baking soda, and salt.
In another bowl, whisk together the buttermilk, vegetable oil, egg, and vanilla extract.
Gradually add the wet ingredients to the dry ingredients, stirring until well combined. Be sure not to overmix.

Preheat the Air Fryer:

Preheat your air fryer to 320°F (160°C) for about 5 minutes.

Grease and Prepare the Pan:

Grease a round cake pan that fits in your air fryer. You can use a 6-inch round cake pan or an appropriate-sized silicone mold.

Pour the Batter:

Pour the cake batter into the greased pan and spread it out evenly.

Air Fry the Cake:

Place the cake pan in the preheated air fryer basket. If your air fryer has multiple racks, use the middle one.
Cook the cake at 320°F (160°C) for about 20-25 minutes. Use a toothpick or cake tester to check for doneness; it should come out mostly clean when inserted into the center of the cake.
Once done, remove the cake from the air fryer and let it cool in the pan for about 10 minutes. Then, remove it from the pan and let it cool completely on a wire rack.

Prepare the Chocolate Truffle Topping:

In a microwave-safe bowl, heat the heavy cream until it's almost boiling but not boiling.
Add the chopped semisweet chocolate, butter, and vanilla extract to the hot cream. Let it sit for a minute to soften the chocolate.
Stir the mixture until it becomes a smooth and glossy ganache.

Decorate the Cake:

Pour the chocolate truffle ganache over the cooled cake, letting it drip down the sides.

Chill and Serve:

Refrigerate the cake for about 30 minutes to allow the ganache to set.
Slice and serve your delicious air fryer chocolate truffle cake. You can garnish with additional chocolate shavings, if desired.
Enjoy your rich and indulgent air-fried chocolate truffle cake!