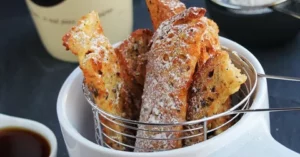 Air fryer French dip wraps are a delicious and convenient way to enjoy the flavors of a French dip sandwich in a wrap form. Here's a simple recipe to make them:
Ingredients:
For the French Dip Wraps:
4 large flour tortillas
1 pound of thinly sliced roast beef
4 slices of provolone cheese (or your preferred cheese)
1/2 cup sautéed onions and bell peppers
1 tablespoon olive oil (for sautéing)
Salt and black pepper to taste
For the Au Jus Dipping Sauce:
2 cups beef broth
2 cloves garlic, minced
1/2 teaspoon dried thyme
Salt and black pepper to taste
Instructions:
Prepare the Au Jus Dipping Sauce:

In a saucepan, combine the beef broth, minced garlic, dried thyme, salt, and black pepper.
Bring the mixture to a simmer and let it cook for about 5-10 minutes. Taste and adjust the seasonings as needed.
Remove the saucepan from the heat and set the au jus dipping sauce aside.

In a separate pan, heat 1 tablespoon of olive oil over medium-high heat. Sauté the onions and bell peppers until they are soft and caramelized. Season with salt and black pepper to taste. Set aside.
Lay out each flour tortilla and assemble the French dip wraps:

Place a slice of provolone cheese in the center of each tortilla.
Add a portion of the thinly sliced roast beef on top of the cheese.
Spoon some sautéed onions and bell peppers over the roast beef.

Roll up each tortilla tightly, folding in the sides as you go, to create a wrap.
Preheat your air fryer to 350°F (175°C) for a few minutes.
Lightly spray or brush the wraps with a small amount of oil to help them brown and crisp in the air fryer.
Place the wraps in the air fryer basket, seam-side down, and cook for about 5-7 minutes, or until they are golden brown and crispy.
Serve the air-fried French dip wraps with the prepared au jus dipping sauce for an authentic French dip experience.
These air fryer French dip wraps make for a delicious, quick, and satisfying meal. They are perfect for lunch, dinner, or as a tasty appetizer for a casual get-together. Enjoy!