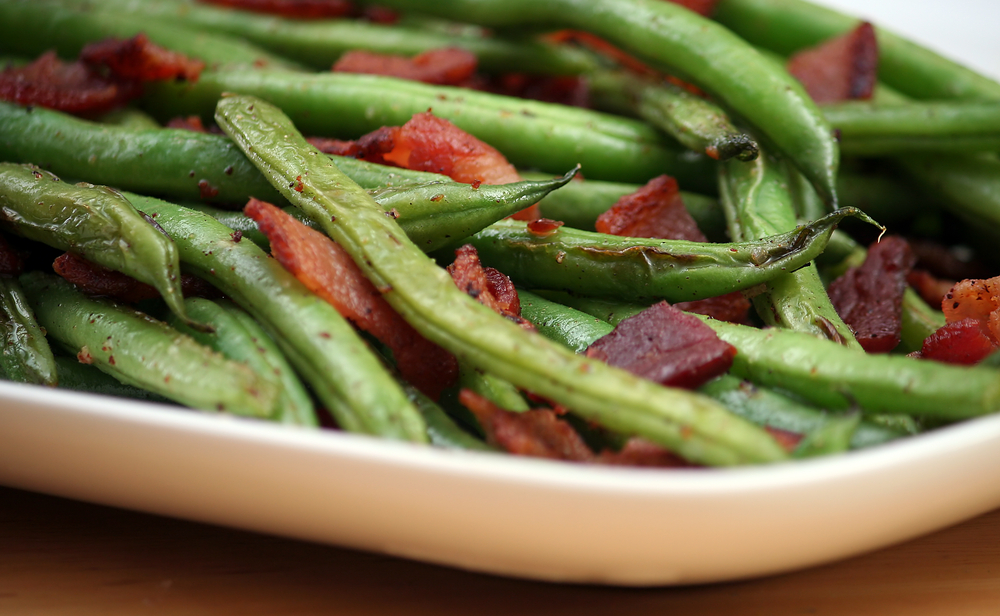 Air Fryer Green Beans with Bacon: A Crispy Delight
Introduction
Green beans are a versatile and nutritious vegetable, and when paired with the savory goodness of bacon, they become a mouthwatering treat. In this recipe, we'll show you how to make Air Fryer Green Beans with Bacon – a dish that's crispy, flavorful, and perfect as a side or snack.
Ingredients You'll Need
Gather the following ingredients to get started:
For the Green Beans:
1 pound (450g) fresh green beans, trimmed
2 tablespoons olive oil
1/2 teaspoon garlic powder
Salt and pepper to taste
For the Bacon:
6-8 slices of bacon, chopped into bite-sized pieces
The Preparation Process
Green Bean Prep
Wash the green beans thoroughly and trim the ends.
Bacon Bliss
Chop the bacon slices into bite-sized pieces.
Seasoning Sensation
In a bowl, combine the trimmed green beans, olive oil, garlic powder, salt, and pepper. Toss until the green beans are evenly coated with the seasonings.
Bacon Magic
Place the chopped bacon in the air fryer basket.
Air Fryer Setup
Preheat your air fryer to 400°F (200°C) for about 5 minutes.
Cooking Time
Once preheated, add the seasoned green beans to the air fryer basket, spreading them out in a single layer.
Bacon and Green Beans Unite
Sprinkle the chopped bacon pieces over the green beans.
Cooking Perfection
Cook the green beans and bacon in the air fryer for 10-12 minutes, shaking the basket halfway through. Cook until the green beans are crispy and the bacon is cooked to your desired level of crispiness.
Serving Your Delight
Once your Air Fryer Green Beans with Bacon are ready, serve them hot as a side dish or snack.
Serving Suggestions
Pair with grilled chicken or steak for a hearty meal.
Serve as a side dish at a barbecue or family gathering.
Enjoy as a guilt-free snack any time of the day.
Conclusion
Air Fryer Green Beans with Bacon is a delightful combination of crisp-tender green beans and the irresistible smokiness of bacon. This recipe is not only easy to prepare but also a crowd-pleaser. The air fryer ensures that the green beans turn out perfectly crispy, and the bacon adds a savory punch that everyone will love.
So, fire up your air fryer and give this recipe a try. Your taste buds will thank you for the delicious treat!
Enjoy your Air Fryer Green Beans with Bacon!
Pro Tip: For a touch of freshness, you can squeeze some lemon juice over the green beans just before serving.
Now, go ahead and savor the crispy delight of Air Fryer Green Beans with Bacon in your own kitchen.