If you're looking to recreate the flavors of Longhorn Steakhouse using your air fryer, you might want to try making a dish inspired by their famous Longhorn Steakhouse Parmesan Crusted Chicken. Here's a simple recipe for Air Fryer Longhorn Steakhouse Parmesan Crusted Chicken: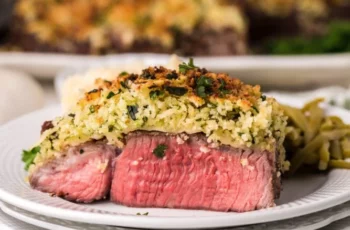 Ingredients:
4 boneless, skinless chicken breasts

Salt and black pepper to taste

1 cup grated Parmesan cheese

1 cup breadcrumbs

1 teaspoon garlic powder

1 teaspoon onion powder

1 teaspoon dried oregano

1 teaspoon dried basil

1/2 teaspoon smoked paprika

2 eggs, beaten

Olive oil spray
Instructions:
Preheat the Air Fryer:

Preheat your air fryer to 375°F (190°C).

Prepare the Chicken:

Season the chicken breasts with salt and black pepper.

Coat the Chicken:

In a shallow dish, combine the Parmesan cheese, breadcrumbs, garlic powder, onion powder, oregano, basil, and smoked paprika.

Dip each chicken breast into the beaten eggs, allowing any excess to drip off.

Press each chicken breast into the Parmesan mixture, coating both sides evenly.

Air Fry the Chicken:

Place the coated chicken breasts in the preheated air fryer basket.

Lightly spray the tops of the chicken breasts with olive oil.

Cook in the Air Fryer:

Air fry the chicken for about 15-20 minutes, flipping halfway through, or until the internal temperature reaches 165°F (74°C) and the coating is golden brown and crispy.

Serve:

Once cooked, let the chicken rest for a few minutes before serving.
You can serve this Parmesan Crusted Chicken with your favorite sides, such as mashed potatoes, steamed vegetables, or a fresh salad, to create a delicious Longhorn Steakhouse-inspired meal in your own kitchen. Adjust the cooking time based on your specific air fryer model and wattage.