Certainly! Making pizza in an air fryer is quick and easy. Here's a basic recipe for air fryer pizza: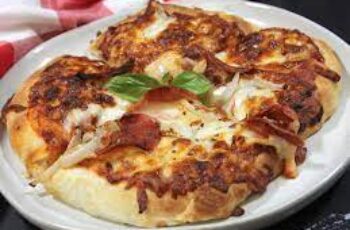 Air Fryer Pizza:
Ingredients:
Pizza dough (store-bought or homemade)
Olive oil
Pizza sauce
Shredded mozzarella cheese
Toppings of your choice (pepperoni, sliced bell peppers, mushrooms, etc.)
Italian seasoning (optional)
Grated Parmesan cheese (optional)
Instructions:
Preheat the Air Fryer:

Preheat your air fryer to 375°F (190°C).

Prepare the Pizza Dough:

Roll out the pizza dough to your desired thickness. If needed, lightly flour the surface to prevent sticking.

Shape and Transfer the Dough:

Shape the dough to fit the size of your air fryer basket or tray.
Lightly brush the surface of the dough with olive oil. This helps prevent the crust from becoming too dry.

Precook the Dough (Optional):

Some people like to precook the pizza dough in the air fryer for a few minutes before adding toppings. This can help ensure a crispier crust. If you choose to do this, cook the dough for about 3-4 minutes.

Add Sauce, Cheese, and Toppings:

Spread a layer of pizza sauce over the dough, leaving a small border around the edges.
Sprinkle a generous amount of shredded mozzarella cheese over the sauce.
Add your favorite toppings.

Air Fry the Pizza:

Place the pizza in the preheated air fryer basket or on the tray.
Cook for about 8-10 minutes or until the cheese is melted, and the crust is golden brown.

Optional Finishing Touch:

If you like, sprinkle some Italian seasoning and grated Parmesan cheese over the pizza after it comes out of the air fryer.

Serve:

Carefully remove the pizza from the air fryer.
Allow it to cool for a few minutes before slicing and serving.
Enjoy your homemade air fryer pizza! Feel free to customize it with your favorite toppings and experiment with different cheeses or sauces. Adjust the cooking time based on your specific air fryer model and wattage.