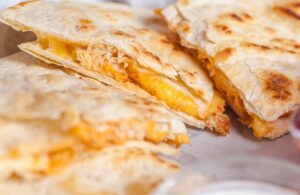 Making quesadillas in an air fryer is a quick and convenient way to achieve a crispy, golden exterior and a melty, delicious filling. Here's how to make air fryer quesadillas:
Air Fryer Quesadillas
Ingredients:
Flour tortillas
Shredded cheese (e.g., cheddar, Monterey Jack, or your choice)
Desired fillings (e.g., cooked chicken, sautéed vegetables, black beans, or cooked ground beef)
Olive oil or cooking spray
Optional toppings: sour cream, salsa, guacamole
Instructions:
Prepare the Fillings:

Ensure that any fillings you plan to use are cooked and ready. For example, if you're including cooked chicken, make sure it's shredded or diced. Sauté vegetables if using.

Assemble the Quesadillas:

Place a tortilla on a clean surface or a plate.
Sprinkle a generous amount of shredded cheese on one half of the tortilla.
Add your desired fillings on top of the cheese.
Fold the other half of the tortilla over to create a half-moon shape.

Preheat the Air Fryer:

Preheat your air fryer to 350°F (175°C) for about 5 minutes.

Prepare the Quesadillas for Air Frying:

Lightly brush or spray the outer surface of the quesadillas with olive oil or cooking spray. This will help them become crispy and golden in the air fryer.

Air Fry the Quesadillas:

Place the prepared quesadillas in the air fryer basket. Depending on the size of your air fryer, you may need to cook them in batches.
Cook at 350°F (175°C) for 5-7 minutes, or until the quesadillas are golden brown and the cheese inside is fully melted. You can check on them periodically to ensure they don't overcook.

Slice and Serve:

Remove the quesadillas from the air fryer, let them cool for a minute, and then slice them into wedges.
Serve your air-fried quesadillas with your favorite toppings like sour cream, salsa, or guacamole.
Air fryer quesadillas are a quick and easy meal or snack, and they're highly customizable to suit your taste. Enjoy!