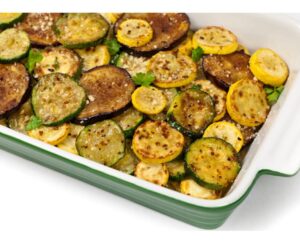 Air-fryer roasted zucchini is a quick and healthy side dish that brings out the natural flavors of zucchini while giving it a crispy, slightly caramelized texture. Here's how to make it:
Ingredients:
2 medium zucchinis
1-2 tablespoons of olive oil
1/2 teaspoon of garlic powder
1/2 teaspoon of onion powder
1/2 teaspoon of dried oregano
1/2 teaspoon of dried basil
Salt and black pepper to taste
Grated Parmesan cheese (optional, for garnish)
Chopped fresh parsley (optional, for garnish)
Instructions:
Start by washing the zucchinis and then trimming off the ends. You can choose to leave the skin on or peel it, depending on your preference.
Cut the zucchinis into slices or wedges, about 1/2 inch (1.3 cm) thick.
In a mixing bowl, combine the zucchini slices, olive oil, garlic powder, onion powder, dried oregano, dried basil, salt, and black pepper. Toss the zucchini to ensure they are evenly coated with the seasonings and oil.
Preheat your air fryer to 375°F (190°C) for a few minutes.
Place the seasoned zucchini slices in a single layer in the air fryer basket. You may need to cook them in batches if your air fryer is small.
Air fry the zucchini for 10-12 minutes, flipping them halfway through the cooking time. Cook until they are golden brown and crispy on the outside and tender on the inside. The cooking time may vary depending on your specific air fryer model, so keep an eye on them.
If desired, sprinkle grated Parmesan cheese over the zucchini during the last 2 minutes of cooking. This adds a delicious cheesy flavor to the dish.
Once the zucchini is cooked to your liking, remove them from the air fryer and transfer them to a serving plate.
Garnish with chopped fresh parsley for a pop of color and freshness.
Your air-fryer roasted zucchini is ready to be served as a tasty and healthy side dish. It pairs well with a variety of main courses and is sure to be a hit at your dinner table. Enjoy!