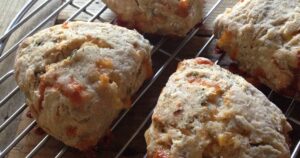 Ultramel scones are a delicious South African treat, and you can make them in an air fryer. Here's a recipe for air-fryer Ultramel scones:
Air Fryer Ultramel Scones
Ingredients:
2 cups self-rising flour
2 tablespoons sugar
1/4 cup butter, cold and cubed
1/2 cup Ultramel custard (or any custard of your choice)
1/4 cup milk (you may need a bit more)
1/2 teaspoon vanilla extract
A pinch of salt
Instructions:
Preheat the Air Fryer:

Preheat your air fryer to 350°F (175°C) for about 5 minutes.

Prepare the Scone Dough:

In a mixing bowl, combine the self-rising flour, sugar, and a pinch of salt.
Add the cold, cubed butter to the dry ingredients. Using a pastry cutter or your fingers, rub the butter into the flour mixture until it resembles coarse breadcrumbs.

Mix the Wet Ingredients:

In a separate bowl, whisk together the Ultramel custard, milk, and vanilla extract.

Combine Wet and Dry Ingredients:

Pour the wet ingredients into the dry ingredients and gently mix until the dough comes together. If the dough is too dry, you can add a little more milk, a tablespoon at a time, until the dough holds together.

Shape the Scones:

Turn the dough out onto a lightly floured surface. Knead it a few times to bring it together, then pat it down to about 1-inch thickness.

Cut the Scones:

Use a round biscuit cutter to cut out scones from the dough. Make sure to press straight down and avoid twisting the cutter to ensure the scones rise evenly. Place the scones on a plate or tray.

Air Fry the Scones:

Lightly grease the air fryer basket or tray to prevent sticking.
Place the scones in the air fryer basket or on a tray in a single layer, making sure there's some space between each one. You may need to cook them in batches.
Air fry the scones at 350°F (175°C) for about 8-12 minutes, or until they are golden brown and cooked through. The exact time may vary depending on your air fryer model, so keep an eye on them.

Serve:

Once the scones are done, remove them from the air fryer and let them cool slightly.
Serve your air-fried Ultramel scones warm with clotted cream, jam, or a cup of tea.
Enjoy your freshly baked, air-fried Ultramel scones!