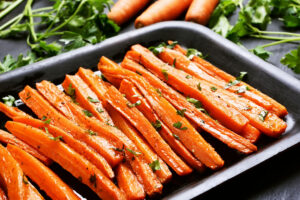 Air-fried carrots are a quick and easy side dish that brings out the natural sweetness of the carrots. Here's a simple recipe for making air fryer carrots:
Air Fryer Carrots
Ingredients:
Carrots (whole carrots or baby carrots)
Olive oil
Salt and pepper
Optional seasonings (such as garlic powder, thyme, or rosemary)
Instructions:
Prepare the Carrots:

If using whole carrots, peel and cut them into sticks or coins. If using baby carrots, you can leave them whole.

Coat with Olive Oil:

Place the prepared carrots in a mixing bowl and drizzle with a bit of olive oil. Toss the carrots to coat them evenly.

Season:

Season the carrots with salt, pepper, and any optional seasonings you like. Garlic powder, dried thyme, or rosemary work well with carrots.

Preheat the Air Fryer:

Preheat your air fryer to 375°F (190°C) for about 5 minutes.

Air Fry the Carrots:

Place the seasoned carrots in the air fryer basket. Make sure they are in a single layer, not overcrowded.
Air fry the carrots at 375°F (190°C) for about 15-20 minutes, shaking the basket or tossing the carrots about halfway through the cooking time. The exact time may vary depending on the size and thickness of the carrots and your air fryer model.

Check for Doneness:

The carrots are done when they are tender and have some caramelized browning. You can use a fork to check for doneness.

Serve:

Remove the air-fried carrots from the basket and transfer them to a serving dish.
Season with a bit more salt and pepper, if desired, and serve hot.
Air-fried carrots make a delicious and healthy side dish for any meal. They are tender on the inside with a nice, crisp exterior, making them a great addition to your dinner table.