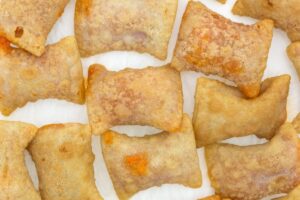 Cheese pockets, also known as cheese turnovers or cheese-filled pastries, are a delicious and savory snack or appetizer. They are made by encasing a flavorful cheese filling in a pastry dough and then baking it until golden and crispy. Here's a simple recipe to make cheese pockets:
Ingredients:
For the Filling:
1 cup grated cheese (you can use cheddar, mozzarella, feta, or your favorite cheese)
1/4 cup cream cheese
1/2 teaspoon garlic powder
1/2 teaspoon dried oregano
Salt and black pepper to taste
Chopped fresh herbs (such as parsley or chives, optional)
For the Pastry Dough:
1 sheet of puff pastry, thawed (you can use store-bought puff pastry)
For Sealing:
1 egg, beaten (for egg wash)
Sesame seeds or poppy seeds (optional, for topping)
Instructions:
Preheat your oven to 375°F (190°C) and line a baking sheet with parchment paper.
In a mixing bowl, combine the grated cheese, cream cheese, garlic powder, dried oregano, salt, and black pepper. Mix until the ingredients are well combined. You can also add some chopped fresh herbs for extra flavor.
Unfold the thawed puff pastry sheet on a lightly floured surface. If it's not already a square or rectangle shape, gently roll it out to create an even thickness.
Cut the puff pastry sheet into equal-sized squares or rectangles, depending on how you want to shape your cheese pockets.
Place a spoonful of the cheese filling in the center of each pastry square or rectangle.
Brush the edges of the pastry with the beaten egg. This will help seal the cheese pockets.
Fold the pastry over the cheese filling to create a triangle or rectangle shape, depending on your preference.
Use a fork to crimp and seal the edges of the pastry.
Place the cheese pockets on the prepared baking sheet.
Brush the tops of the pockets with more beaten egg, and you can sprinkle sesame seeds or poppy seeds on top for added texture and flavor.
Bake in the preheated oven for 15-20 minutes or until the cheese pockets are golden brown and puffed up.
Allow the cheese pockets to cool slightly before serving. They are best enjoyed warm.
These cheese pockets make a delightful snack or appetizer and can be served at parties, picnics, or as a tasty addition to your lunch or dinner. Enjoy!