Certainly! Here's a simple recipe for a cucumber and tomato salad: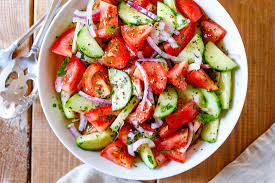 Ingredients:
2 cucumbers
4 tomatoes
1/2 red onion
1/4 cup fresh basil leaves
1/4 cup fresh mint leaves
1/4 cup extra-virgin olive oil
2 tablespoons red wine vinegar
Salt and pepper to taste
Instructions:
Start by washing and drying the cucumbers, tomatoes, basil, and mint.
Peel and thinly slice the cucumbers. You can also score the skin with a fork to create a decorative edge.
Cut the tomatoes into bite-sized chunks.
Thinly slice the red onion. If you find the flavor of raw onion too strong, you can soak the slices in cold water for a few minutes and then drain them. This will mellow the flavor.
In a large salad bowl, combine the sliced cucumbers, tomato chunks, and sliced red onion.
Tear the fresh basil and mint leaves into small pieces and add them to the bowl.
In a small bowl, whisk together the extra-virgin olive oil and red wine vinegar. You can adjust the ratio to your taste, adding more or less vinegar as desired.
Pour the dressing over the cucumber, tomato, and onion mixture.
Season the salad with salt and pepper to taste.
Toss everything gently to coat the vegetables with the dressing and combine the flavors.
Let the salad sit for a few minutes to allow the flavors to meld.
Serve the cucumber and tomato salad as a refreshing side dish or a light summer appetizer.
Enjoy your delicious and healthy cucumber and tomato salad!