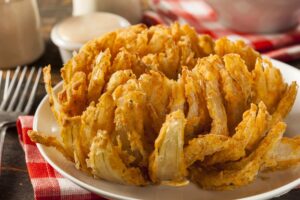 Air fryer onions are a quick and easy side dish or topping that can add flavor and a crispy texture to a variety of dishes. Here's how to make air fryer onions:
Ingredients:
1 large onion (you can use any variety you prefer)
1-2 tablespoons of olive oil
Salt and black pepper to taste
Optional seasonings (such as garlic powder, onion powder, paprika, or dried herbs)
Instructions:
Begin by peeling and thinly slicing the onion into rings or half-moons. You can adjust the thickness to your preference, but thinner slices will become crispier in the air fryer.
In a mixing bowl, toss the sliced onions with olive oil to coat them evenly. You can also add a pinch of salt, black pepper, and any optional seasonings you like for extra flavor.
Preheat your air fryer to 375°F (190°C) for a few minutes.
Place the seasoned onions in the air fryer basket. Make sure they are in a single layer to ensure even cooking. You may need to cook them in batches if your air fryer has a smaller basket.
Air fry the onions for 8-10 minutes, stopping to shake the basket or stir the onions halfway through the cooking time. Cook until the onions are golden brown and crispy. The exact cooking time may vary based on your specific air fryer model.
Once the onions are done, remove them from the air fryer and transfer them to a plate lined with paper towels to absorb any excess oil.
Serve your air fryer onions as a side dish, a topping for burgers or sandwiches, or as a garnish for soups and salads.
Air fryer onions add a delightful crunch and a burst of flavor to a variety of dishes. They're a versatile and delicious addition to your culinary repertoire. Enjoy!