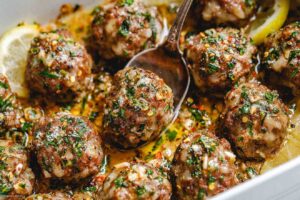 Potatoes and Meatballs: A Hearty and Comforting Meal
Introduction
Potatoes and meatballs are a classic combination that forms the basis of hearty, comforting meals in many cuisines around the world. Whether you're looking for a satisfying dinner or a crowd-pleasing dish, this recipe for Potatoes and Meatballs is sure to hit the spot. In this article, we'll guide you through making this delicious and filling meal.
Ingredients
Before we dive into the recipe, let's gather the essential ingredients you'll need for Potatoes and Meatballs:
For the Meatballs:
1 pound ground beef (you can also use ground pork, turkey, or a mixture)
1/2 cup breadcrumbs
1/4 cup grated Parmesan cheese
1/4 cup finely chopped onion
1 clove garlic, minced
1 egg
1 teaspoon dried oregano
Salt and black pepper to taste
Cooking oil (for frying)
For the Potatoes:
4 medium-sized potatoes, peeled and diced into 1-inch cubes
2 tablespoons olive oil
1 teaspoon paprika
1/2 teaspoon garlic powder
1/2 teaspoon onion powder
Salt and black pepper to taste
For the Tomato Sauce:
1 can (14 ounces) diced tomatoes
1/2 cup tomato sauce
1 teaspoon dried basil
1/2 teaspoon dried thyme
1/2 teaspoon dried rosemary
Salt and black pepper to taste
For Garnish:
Chopped fresh parsley or basil (optional)
Instructions
1. Prepare the Meatballs
In a large mixing bowl, combine the ground meat, breadcrumbs, grated Parmesan cheese, finely chopped onion, minced garlic, egg, dried oregano, salt, and black pepper. Mix the ingredients until well combined.
Form the mixture into meatballs, about 1 to 1.5 inches in diameter. You can make them larger or smaller based on your preference.
Heat a skillet or frying pan over medium-high heat and add a little cooking oil. Once hot, add the meatballs and cook until they are browned on all sides and cooked through, about 8-10 minutes. Remove them from the pan and set them aside.
2. Prepare the Potatoes
In a large bowl, combine the diced potatoes, olive oil, paprika, garlic powder, onion powder, salt, and black pepper. Toss the potatoes until they are evenly coated with the seasonings.
Preheat your oven to 400°F (200°C).
Spread the seasoned potatoes in a single layer on a baking sheet and roast them in the preheated oven for about 25-30 minutes, or until they are golden and tender, flipping them once halfway through the cooking time.
3. Make the Tomato Sauce
In a saucepan, combine the diced tomatoes, tomato sauce, dried basil, dried thyme, dried rosemary, salt, and black pepper. Heat the sauce over medium heat until it comes to a simmer. Let it simmer for about 10 minutes to allow the flavors to meld.
4. Combine and Serve
In a large serving dish, combine the roasted potatoes, cooked meatballs, and tomato sauce. Gently toss everything together to coat the potatoes and meatballs with the sauce.
If desired, garnish with chopped fresh parsley or basil for a burst of color and freshness.
Serve your hearty Potatoes and Meatballs as a complete meal that's both comforting and satisfying.
Conclusion
Potatoes and Meatballs is a timeless and hearty dish that brings together the richness of meatballs, the comforting flavors of roasted potatoes, and the savory goodness of tomato sauce. It's a complete meal that's sure to please everyone at the table.
So, gather your ingredients, follow the steps, and get ready to enjoy a wholesome and delicious meal that's perfect for any occasion. Happy cooking!