Certainly! Here's a recipe for making delicious air fryer spanakopita, a Greek spinach and feta pastry: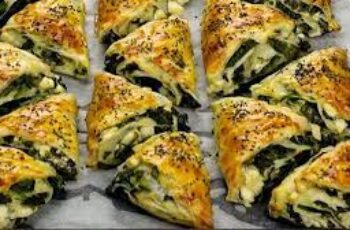 Air Fryer Spanakopita:
Ingredients:
1 pound frozen chopped spinach, thawed and well-drained
1 cup crumbled feta cheese
1/2 cup ricotta cheese
1/2 cup grated Parmesan cheese
1/4 cup chopped fresh dill
1/4 cup chopped fresh parsley
3 green onions, finely chopped
2 cloves garlic, minced
Salt and black pepper to taste
1/2 cup unsalted butter, melted
12 sheets phyllo dough (approx. 9×14 inches)
Olive oil cooking spray
Instructions:
Preheat the Air Fryer:

Preheat your air fryer to 375°F (190°C).

Prepare the Filling:

In a large bowl, combine the thawed and well-drained chopped spinach, feta cheese, ricotta cheese, Parmesan cheese, chopped dill, chopped parsley, green onions, minced garlic, salt, and black pepper. Mix well.

Assemble the Spanakopita:

Lay out one sheet of phyllo dough and brush it lightly with melted butter.
Place another sheet on top and brush with butter again. Repeat until you have a stack of 4 sheets.
Spoon a portion of the spinach and cheese mixture along one edge of the phyllo stack.
Roll the phyllo over the filling, folding in the sides as you go, to form a log or cylinder. Brush the final edge with butter to seal.
Repeat the process to make additional spanakopita rolls.

Air Fry the Spanakopita:

Lightly spray the air fryer basket with olive oil cooking spray.
Place the spanakopita rolls in the air fryer basket, making sure they are not touching.
Air fry for about 12-15 minutes, or until the phyllo is golden brown and crispy.

Serve:

Once cooked, let the spanakopita cool for a few minutes before slicing.
Serve warm and enjoy!
Feel free to pair your air fryer spanakopita with tzatziki sauce or your favorite Greek dip. Adjust the cooking time based on your specific air fryer model and wattage.