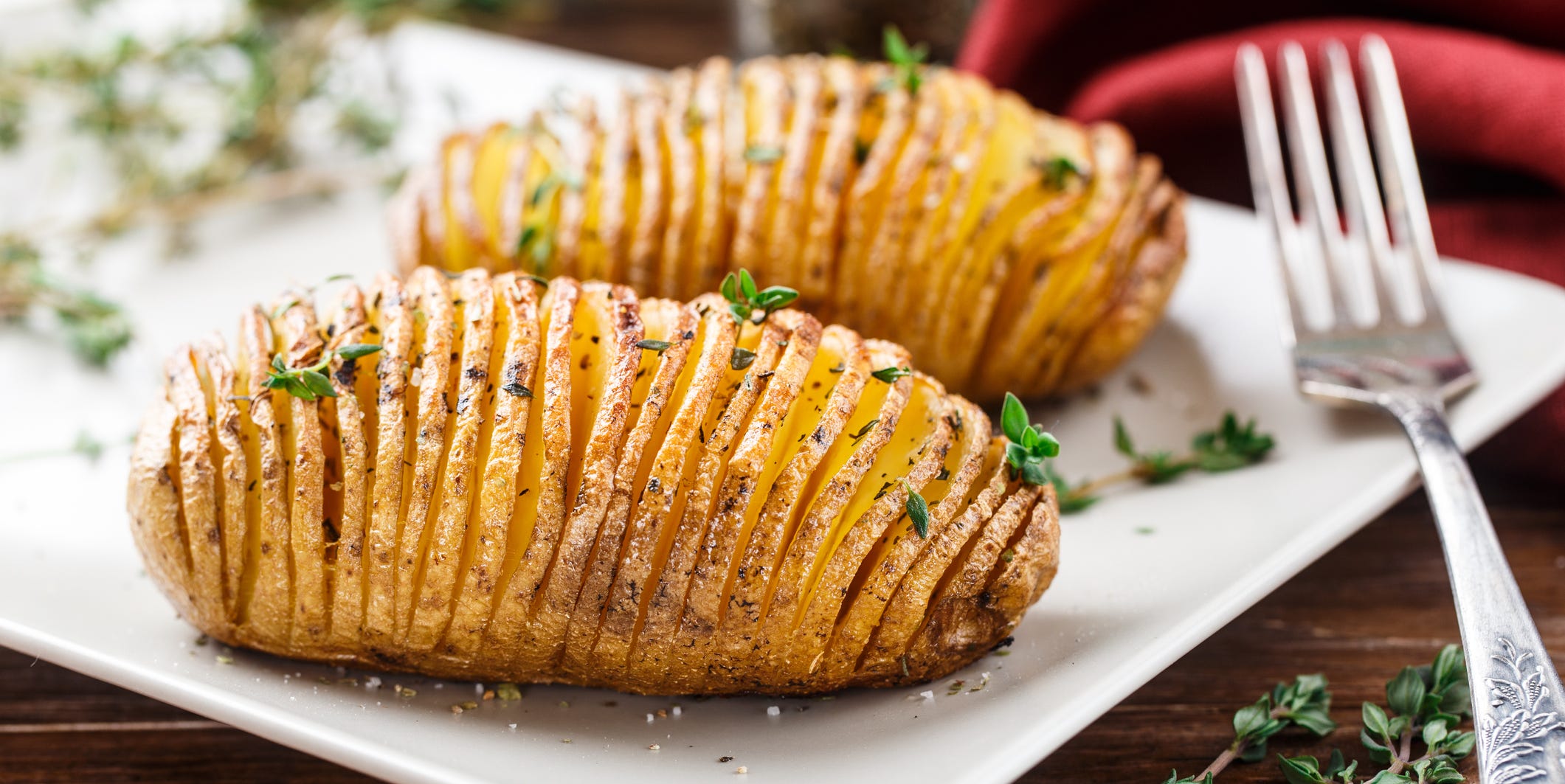 Air Fryer Hasselback Potatoes: Crispy, Creamy, and Irresistible
Introduction
Hasselback potatoes are a stunning and delicious side dish that takes the humble potato to a whole new level. Named after the Swedish restaurant where they were first introduced, these potatoes feature thin slices that become wonderfully crispy while maintaining a creamy interior. When cooked in the air fryer, Hasselback potatoes are not only convenient but also incredibly flavorful. In this article, we'll guide you through making Air Fryer Hasselback Potatoes that are easy to prepare and sure to impress.
The Magic of Air Frying
Air frying is an ideal method for making Hasselback potatoes as it ensures even cooking and a beautiful crunch while using minimal oil. You'll end up with potatoes that are crispy on the outside and tender on the inside.
Ingredients
Before we dive into the recipe, let's gather the essential ingredients you'll need for Air Fryer Hasselback Potatoes:
4 medium russet potatoes
2 tablespoons olive oil
2 cloves garlic, minced
2 tablespoons fresh rosemary, finely chopped (or your preferred herbs)
Salt and black pepper to taste
Cooking spray (for the air fryer)
Instructions
1. Prepare the Potatoes
Start by washing and scrubbing the russet potatoes thoroughly to remove any dirt. You can leave the skins on for added texture and nutrients.
Carefully slice each potato into thin slices, making sure not to cut all the way through. The slices should be about 1/8 inch apart, and you should leave about 1/4 inch at the bottom of each potato intact, so they hold together.
2. Season the Potatoes
In a small bowl, combine the olive oil, minced garlic, chopped fresh rosemary (or your preferred herbs), salt, and black pepper. Mix well to create the seasoning mixture.
Using a pastry brush or a small spoon, drizzle the seasoned olive oil mixture over the potatoes, making sure it gets into the slices. You can gently separate the slices with your fingers to allow the seasoning to penetrate.
3. Preheat Your Air Fryer
Preheat your air fryer to 375°F (190°C) for about 5 minutes. Preheating ensures even cooking and a crispy exterior.
4. Air Fry the Hasselback Potatoes
Lightly grease the air fryer basket with cooking spray to prevent sticking.
Carefully transfer each seasoned potato to the air fryer basket, ensuring they are not touching and have some space between them for proper air circulation.
Air fry the Hasselback potatoes for 35-40 minutes, or until they are golden brown and crispy on the outside and tender on the inside. Cooking times may vary depending on the size and type of your air fryer, so keep an eye on them.
5. Serve and Enjoy
Remove the Air Fryer Hasselback Potatoes from the air fryer and let them cool for a minute or two.
Serve your stunning Hasselback potatoes immediately as a side dish. They pair wonderfully with sour cream, chives, or your favorite dipping sauce.
Conclusion
Air Fryer Hasselback Potatoes are a visually stunning and flavorful side dish that will impress your guests or elevate your weeknight dinners. With the convenience of air frying, you can enjoy these crispy and creamy potatoes with minimal effort.
So, preheat your air fryer, season those potatoes, and get ready to savor a dish that's as beautiful as it is delicious. Whether it's a holiday feast or a casual dinner, Air Fryer Hasselback Potatoes are sure to steal the show. Happy cooking!