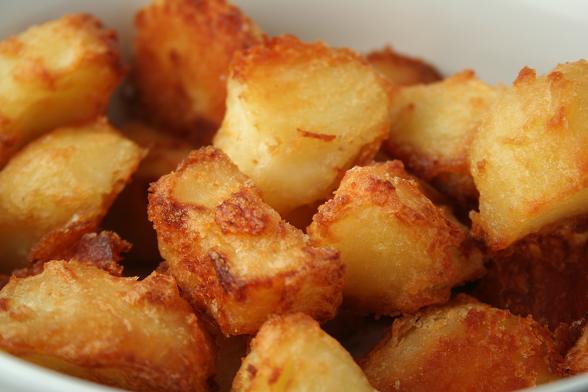 Crispy Mini Cheesy Potatoes: Irresistible Bites
Introduction
Crispy Mini Cheesy Potatoes are the ultimate bite-sized comfort food. These golden, crispy potato bites are generously filled with melted cheese and savory herbs, making them an irresistible snack or appetizer. Whether you're serving them at a party or enjoying them as a side dish, these cheesy potato bites are sure to please your taste buds. Let's get started!
Ingredients
Before we begin, let's gather the essential ingredients you'll need for Crispy Mini Cheesy Potatoes:
12-15 small baby potatoes
1 cup shredded cheddar cheese (or your favorite cheese)
1/4 cup grated Parmesan cheese
1/4 cup unsalted butter, melted
1 teaspoon garlic powder
1/2 teaspoon dried thyme
Salt and black pepper to taste
Cooking spray (for the baking sheet)
Instructions
1. Preheat Your Oven
Preheat your oven to 400°F (200°C) to ensure it's hot and ready for baking.
2. Prepare the Baby Potatoes
Wash and scrub the baby potatoes thoroughly to remove any dirt or debris.
Place the potatoes in a pot of salted boiling water and cook for about 10-12 minutes or until they are slightly tender but not fully cooked. You should be able to insert a fork with slight resistance.
Drain the potatoes and let them cool for a few minutes.
Once cooled, carefully slice a small portion off the top of each potato to create a flat base. This will help them stand upright on the baking sheet.
3. Hollow Out the Potatoes
Use a small spoon or a melon baller to hollow out each potato, leaving a thin layer of potato flesh on the sides and bottom. Reserve the potato scooped from the center for another use (such as mashed potatoes).
4. Prepare the Cheesy Filling
In a mixing bowl, combine the shredded cheddar cheese, grated Parmesan cheese, melted unsalted butter, garlic powder, dried thyme, salt, and black pepper. Mix until all the ingredients are well incorporated.
5. Fill the Potatoes
Fill each hollowed-out potato with the cheesy filling mixture, pressing it down gently to ensure it's well-packed.
6. Arrange on the Baking Sheet
Lightly coat a baking sheet with cooking spray to prevent sticking.
Place the filled mini cheesy potatoes on the baking sheet, standing upright.
7. Bake the Cheesy Potatoes
Bake the mini cheesy potatoes in the preheated oven for approximately 15-20 minutes or until they are golden brown and crispy on the outside. The exact time may vary depending on your oven, so keep an eye on them.
8. Serve and Enjoy
Once the Crispy Mini Cheesy Potatoes are done, remove them from the oven and let them cool slightly before serving.
These cheesy potato bites are perfect as a snack, appetizer, or side dish. Serve them hot and watch them disappear!
Conclusion
Crispy Mini Cheesy Potatoes are a delightful combination of crispy and cheesy goodness. Whether you're enjoying them as a party snack or adding them to your dinner table, they're guaranteed to be a hit. So, preheat your oven, prepare those cheesy bites, and get ready to savor the irresistible taste of Crispy Mini Cheesy Potatoes!