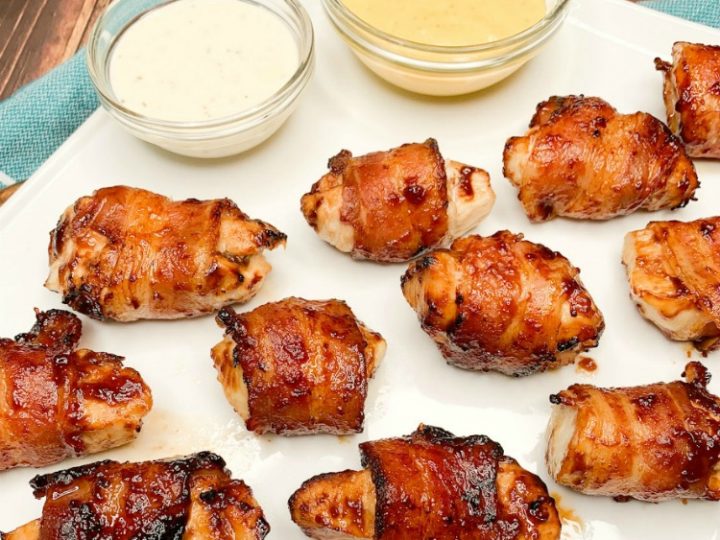 Air Fryer Bacon-Wrapped Chicken Bites: Irresistible Appetizers for Every Occasion
Introduction
Looking for a crowd-pleasing appetizer that's both savory and indulgent? Enter "Air Fryer Bacon-Wrapped Chicken Bites." These bite-sized delights are perfect for parties, game nights, or simply satisfying your cravings. In this article, we'll guide you through the process of creating these irresistible treats in your air fryer.
The Art of Flavor Fusion
Combining the rich, smoky goodness of bacon with tender, juicy chicken creates a harmonious blend of flavors and textures that will leave your taste buds craving more.
Ingredients and Preparation
Before we dive into the recipe, let's gather our ingredients and prepare the chicken bites.
Ingredients:
Boneless, skinless chicken breast or thigh, cut into bite-sized pieces.
Thin strips of bacon (one per chicken piece).
Your choice of seasoning (e.g., garlic powder, paprika, black pepper).
Toothpicks (to secure the bacon).
Preparation:
Season the chicken pieces with your choice of seasoning. This step adds depth to the flavor profile.
Take a strip of bacon and wrap it around each seasoned chicken piece. Secure the bacon with a toothpick to ensure it stays in place during cooking.
Air Frying Techniques
1. Preheating Your Air Fryer
Before placing the bacon-wrapped chicken bites in the air fryer basket, preheat the air fryer to the recommended temperature (usually around 375°F or 190°C). Preheating ensures even cooking and a crispy bacon exterior.
2. Arranging the Chicken Bites
Place the prepared chicken bites in a single layer in the air fryer basket. Avoid overcrowding to allow proper air circulation for even cooking. You may need to cook in batches for larger quantities.
3. Cooking Time
Air fry the bacon-wrapped chicken bites for approximately 12-15 minutes, turning them halfway through the cooking time. The chicken should reach an internal temperature of 165°F (74°C) to ensure it's cooked through.
4. Crispy Perfection
Keep an eye on the chicken bites as they cook. Adjust the cooking time as needed to achieve the desired level of crispiness for the bacon.
Serving Suggestions
1. Dipping Sauces
Serve these delectable bites with an array of dipping sauces such as barbecue sauce, honey mustard, or ranch dressing. The contrasting flavors will elevate your culinary experience.
2. Garnishes
Sprinkle freshly chopped herbs like parsley or chives on top of the chicken bites before serving for a burst of color and freshness.
3. Pairing
Pair your bacon-wrapped chicken bites with a light salad or coleslaw to balance out the richness of the dish.
Conclusion
In conclusion, "Air Fryer Bacon-Wrapped Chicken Bites" are a guaranteed crowd-pleaser that combines the best of both worlds: savory bacon and succulent chicken. With your air fryer as your trusty sidekick, you can whip up these appetizers in no time, making them a versatile addition to any occasion.
So, whether you're hosting a gathering, craving a snack, or looking for an appetizer that wows, these bacon-wrapped chicken bites are the answer. Serve them up, watch them disappear, and enjoy the delighted expressions of your guests.