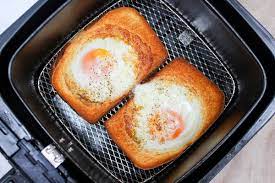 Air fryer egg toast is a simple and tasty breakfast or brunch idea that's quick to make. Here's a basic recipe for air fryer egg toast:
Ingredients:
2 slices of bread
2 large eggs
Butter or cooking spray
Salt and pepper to taste
Optional toppings: grated cheese, diced tomatoes, chopped herbs, or cooked bacon bits
Instructions:
Preheat your air fryer to 350°F (175°C) for a few minutes.
While the air fryer is heating up, prepare the bread. You can choose to leave the bread as is or cut a hole in the center of each slice to create a space for the eggs (this is sometimes called "egg in a hole" or "toad in the hole").
Grease the air fryer basket with a little butter or cooking spray to prevent sticking.
Place the bread slices (with or without holes) into the air fryer basket.
Carefully crack one egg into the hole you made in each bread slice. Season the eggs with a pinch of salt and pepper.
If you're using any optional toppings like grated cheese, diced tomatoes, herbs, or bacon bits, sprinkle them on top of the eggs.
Gently place the air fryer basket back into the air fryer.
Cook the egg toast in the air fryer at 350°F (175°C) for about 4-6 minutes, or until the egg whites are set, and the yolk is to your desired level of doneness. Adjust the cooking time if you want your eggs runny or fully cooked.
Carefully remove the air fryer egg toast from the air fryer, and let it cool for a minute or two before serving.
Enjoy your air fryer egg toast! You can serve it as-is or with a side of ketchup, hot sauce, or your favorite condiments.
Air fryer egg toast is a quick and easy breakfast option that combines the creaminess of eggs with the crunchiness of toasted bread. You can customize it with your favorite toppings and seasonings to suit your taste.