Air fryer garlic Parmesan bagels are a savory and delicious snack or side dish that's crispy on the outside and packed with flavor. Here's how to make them: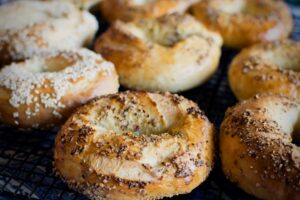 Ingredients:
2 bagels (your choice of flavor)
2 tablespoons unsalted butter, melted
2 cloves garlic, minced
1/4 cup grated Parmesan cheese
1 tablespoon chopped fresh parsley (optional)
Salt and black pepper to taste
Instructions:
Preheat your air fryer to 350°F (175°C) for a few minutes.
While the air fryer is preheating, carefully slice the bagels in half horizontally.
In a small bowl, mix the melted butter, minced garlic, grated Parmesan cheese, chopped fresh parsley (if using), and a pinch of salt and black pepper to create a garlic Parmesan spread.
Spread the garlic Parmesan mixture evenly on the cut sides of each bagel half.
Place the prepared bagels, cut side up, in the air fryer basket.
Cook the bagels in the preheated air fryer for about 4-6 minutes, or until they are crispy and the cheese is bubbling and lightly browned. Cooking times may vary depending on your air fryer model and the thickness of your bagels, so keep an eye on them.
Carefully remove the garlic Parmesan bagels from the air fryer basket and let them cool for a minute.
If desired, sprinkle some extra grated Parmesan cheese and chopped fresh parsley on top for added flavor and presentation.
Serve your air-fried garlic Parmesan bagels as a tasty side dish, snack, or accompaniment to your favorite meal.
These air fryer garlic Parmesan bagels are a flavorful and convenient treat that's perfect for garlic bread lovers. Enjoy their crispy texture and savory taste!