Air fryer lasagna is a quick and convenient way to prepare this classic Italian dish. Here's a simple recipe to make delicious air fryer lasagna: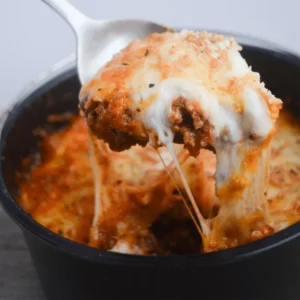 Ingredients:
9 lasagna noodles
1 pound ground beef or Italian sausage
1 small onion, chopped
3 cloves garlic, minced
1 (24-ounce) jar of your favorite marinara sauce
2 cups ricotta cheese
2 cups shredded mozzarella cheese
1/2 cup grated Parmesan cheese
1 egg
Salt and pepper to taste
Italian seasoning or dried basil and oregano (optional)
Olive oil for greasing
Instructions:
Cook the Lasagna Noodles: Boil the lasagna noodles according to the package instructions until they are al dente. Drain and set them aside.
Prepare the Filling: In a skillet, brown the ground beef or Italian sausage over medium heat until it's fully cooked. Add chopped onions and minced garlic, and sauté until the onions are translucent. Drain any excess fat if needed. Stir in the marinara sauce, and let the mixture simmer for a few minutes. Season with salt, pepper, and Italian seasoning or herbs to taste.
In a separate bowl, mix the ricotta cheese, egg, 1 cup of mozzarella cheese, and 1/4 cup of Parmesan cheese.
Assemble the Lasagna: Grease an oven-safe dish that fits into your air fryer basket with a bit of olive oil. Place a layer of the cooked lasagna noodles on the bottom. Spread a portion of the ricotta cheese mixture over the noodles, followed by a layer of the meat sauce. Repeat the layers until you've used up all the ingredients, finishing with a layer of meat sauce on top. Sprinkle the remaining mozzarella and Parmesan cheese on the top.
Air Fry the Lasagna: Preheat your air fryer to 350°F (175°C). Place the lasagna in the greased oven-safe dish into the air fryer basket. Cook for about 15-20 minutes, or until the lasagna is heated through and the cheese is bubbly and golden brown.
Serve: Carefully remove the lasagna from the air fryer, let it cool for a few minutes, and then serve. Garnish with fresh basil or parsley if desired.
Enjoy your air fryer lasagna! It's a quick and delicious way to enjoy this classic Italian comfort food with a crispy top layer and tender layers inside.