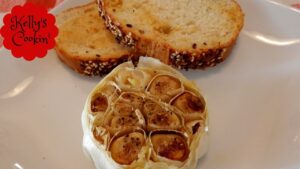 Roasted garlic in an air fryer is easy to make and provides a sweet, caramelized flavor that's perfect for adding depth to various dishes. Here's how to make air-fryer roasted garlic:
Air Fryer Roasted Garlic
Ingredients:
Whole garlic bulbs
Olive oil
Salt and pepper (optional)
Instructions:
Prep the Garlic:

Take whole garlic bulbs and peel away any loose, papery outer layers, leaving the bulbs intact.

Slice the Tops Off:

Slice about 1/4 to 1/2 inch off the top of each garlic bulb. This exposes the cloves inside.

Drizzle with Olive Oil:

Drizzle a bit of olive oil over the exposed cloves of each garlic bulb. You can use your fingers to rub the oil over the cloves to ensure they are well coated.

Season (Optional):

If desired, sprinkle a pinch of salt and pepper over the garlic bulbs. This adds a bit of seasoning to the roasted garlic.

Wrap in Foil (Optional):

You can wrap each garlic bulb individually in aluminum foil, but this is optional. Wrapping in foil can help prevent the garlic from drying out during the roasting process.

Preheat the Air Fryer:

Preheat your air fryer to 350°F (175°C) for about 5 minutes.

Roast in the Air Fryer:

Place the prepared garlic bulbs in the air fryer basket or on the tray. If you wrapped them in foil, you can still place them in the basket.
Air fry the garlic at 350°F (175°C) for approximately 25-30 minutes. The garlic should become tender and caramelized. The exact time may vary depending on your air fryer's model and the size of the garlic bulbs, so keep an eye on them.

Cool and Serve:

Once the roasted garlic is done, carefully remove it from the air fryer and let it cool for a few minutes.
To enjoy, simply squeeze the roasted cloves out of the skins. Roasted garlic can be used in a variety of dishes like mashed potatoes, pasta, spreads, or as a flavor booster in soups and sauces.
Air-fryer roasted garlic is a wonderful addition to your culinary repertoire, adding a rich and sweet garlic flavor to your dishes.