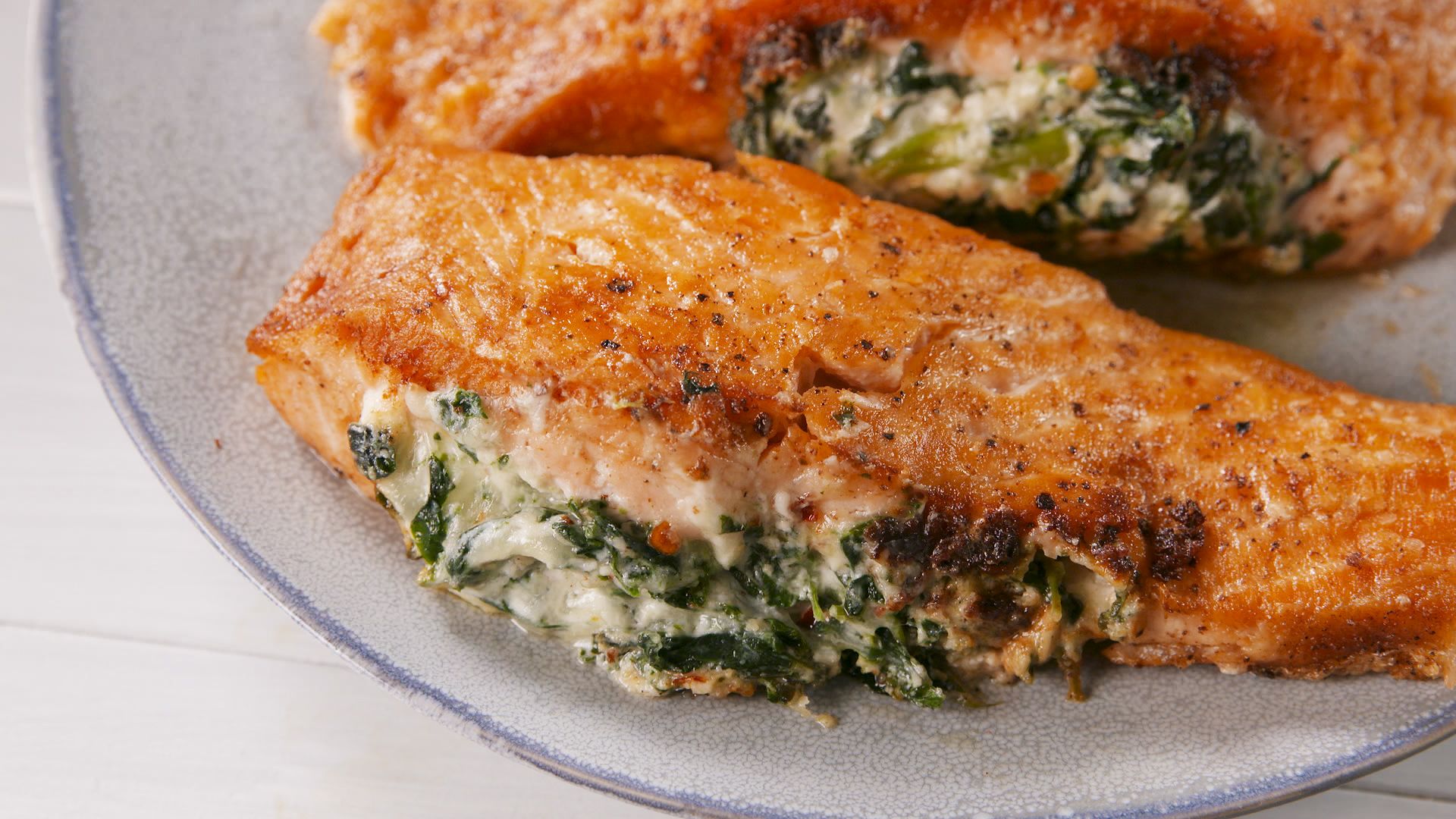 Air Fryer Stuffed Salmon: A Delicious and Healthy Delight
Introduction
Salmon is not only delicious but also packed with nutrients, making it a popular choice for a healthy meal. When you add a flavorful stuffing and cook it in the air fryer, you get a dish that's both impressive and easy to prepare. In this recipe, we'll guide you through making Air Fryer Stuffed Salmon that's moist, tender, and bursting with flavor.
Ingredients
Before we dive into the recipe, let's gather the essential ingredients you'll need for Air Fryer Stuffed Salmon:
For the Stuffed Salmon:
2 salmon fillets (6-8 ounces each)
1/2 cup fresh spinach, chopped
1/4 cup cream cheese
2 tablespoons grated Parmesan cheese
1 clove garlic, minced
1/2 teaspoon lemon zest
Salt and black pepper to taste
For the Salmon Seasoning:
1 tablespoon olive oil
1/2 teaspoon paprika
1/2 teaspoon dried thyme
1/2 teaspoon dried rosemary
Salt and black pepper to taste
Instructions
1. Prepare the Spinach and Cream Cheese Stuffing
In a mixing bowl, combine the chopped fresh spinach, cream cheese, grated Parmesan cheese, minced garlic, lemon zest, salt, and black pepper. Mix until all the ingredients are well incorporated.
2. Butterfly the Salmon Fillets
Lay the salmon fillets flat on a cutting board, skin-side down.
Using a sharp knife, make a horizontal cut into the side of each salmon fillet, stopping about half an inch from the other side. This will create a pocket for the stuffing.
Be careful not to cut all the way through the salmon fillet; you want to create a flap that can be opened.
3. Stuff the Salmon
Open the pocket of each salmon fillet.
Spoon the prepared spinach and cream cheese mixture into the pockets, dividing it evenly between the two fillets.
Gently press the salmon fillets closed to encase the stuffing. The cream cheese mixture should stay inside the salmon.
4. Season the Salmon
In a small bowl, mix together the olive oil, paprika, dried thyme, dried rosemary, salt, and black pepper to create a seasoning mixture.
Brush the seasoning mixture onto both sides of each stuffed salmon fillet.
5. Preheat Your Air Fryer
Preheat your air fryer to 375°F (190°C) for about 5 minutes. Preheating ensures even cooking and a beautiful exterior on the salmon.
6. Air Fry the Stuffed Salmon
Lightly grease the air fryer basket with cooking spray to prevent sticking.
Place the stuffed salmon fillets in the air fryer basket in a single layer.
Air fry the salmon for 10-12 minutes, depending on the thickness of the fillets. The salmon should be opaque and flake easily with a fork. Cooking times may vary, so it's essential to check for doneness.
7. Serve and Enjoy
Carefully remove the Air Fryer Stuffed Salmon from the air fryer basket.
Serve the salmon immediately as a main course. It pairs wonderfully with a side of steamed vegetables, rice, or a fresh salad.
Conclusion
Air Fryer Stuffed Salmon is a delectable and healthy dish that's perfect for a special dinner or a quick weeknight meal. With the convenience of the air fryer, you can enjoy moist and flavorful salmon with a delightful cream cheese and spinach stuffing.
So, preheat your air fryer, stuff those salmon fillets, and get ready to savor a delicious and nutritious meal that's both impressive and easy to make. Happy cooking!