Certainly! Here's a recipe for Air Fryer Italian Wraps: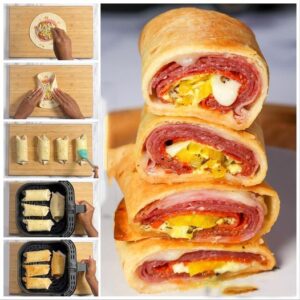 Ingredients:
4 large tortillas or flatbreads
1 cup of marinara sauce
1 cup of shredded mozzarella cheese
8 slices of pepperoni
1/2 cup of sliced black olives
1/2 cup of sliced green bell pepper
1/2 cup of sliced red onion
1/2 cup of sliced cherry tomatoes
1/2 cup of shredded lettuce
1/4 cup of grated Parmesan cheese
1 tablespoon of olive oil
1 teaspoon of dried oregano
1/2 teaspoon of garlic powder
Salt and pepper to taste
Instructions:
Prepare the Air Fryer: Preheat your air fryer to 375°F (190°C).
Assemble the Wraps:

Lay out one tortilla or flatbread.
Spread a generous spoonful of marinara sauce on the center of the tortilla.
Sprinkle a portion of shredded mozzarella cheese over the sauce.
Add two slices of pepperoni on top of the cheese.
Sprinkle a portion of sliced black olives, green bell pepper, red onion, and cherry tomatoes.
Season with dried oregano, garlic powder, salt, and pepper.
Fold in the sides of the tortilla and then roll it up tightly into a wrap.

Repeat: Repeat the process for the remaining tortillas.
Air Fry the Wraps:

Brush the outside of each wrap with a little olive oil to help them crisp up in the air fryer.
Place the wraps in the preheated air fryer basket seam-side down.
Air fry for about 5-7 minutes or until they turn golden brown and crispy.

Serve:

Once done, carefully remove the Italian wraps from the air fryer.
Sprinkle shredded lettuce and grated Parmesan cheese on top for a fresh and crunchy finish.

Enjoy: Serve the Air Fryer Italian Wraps hot and enjoy the delicious, crispy, and cheesy goodness!
These Air Fryer Italian Wraps are a fantastic and quick meal or snack option, perfect for satisfying your Italian food cravings in a healthier way.