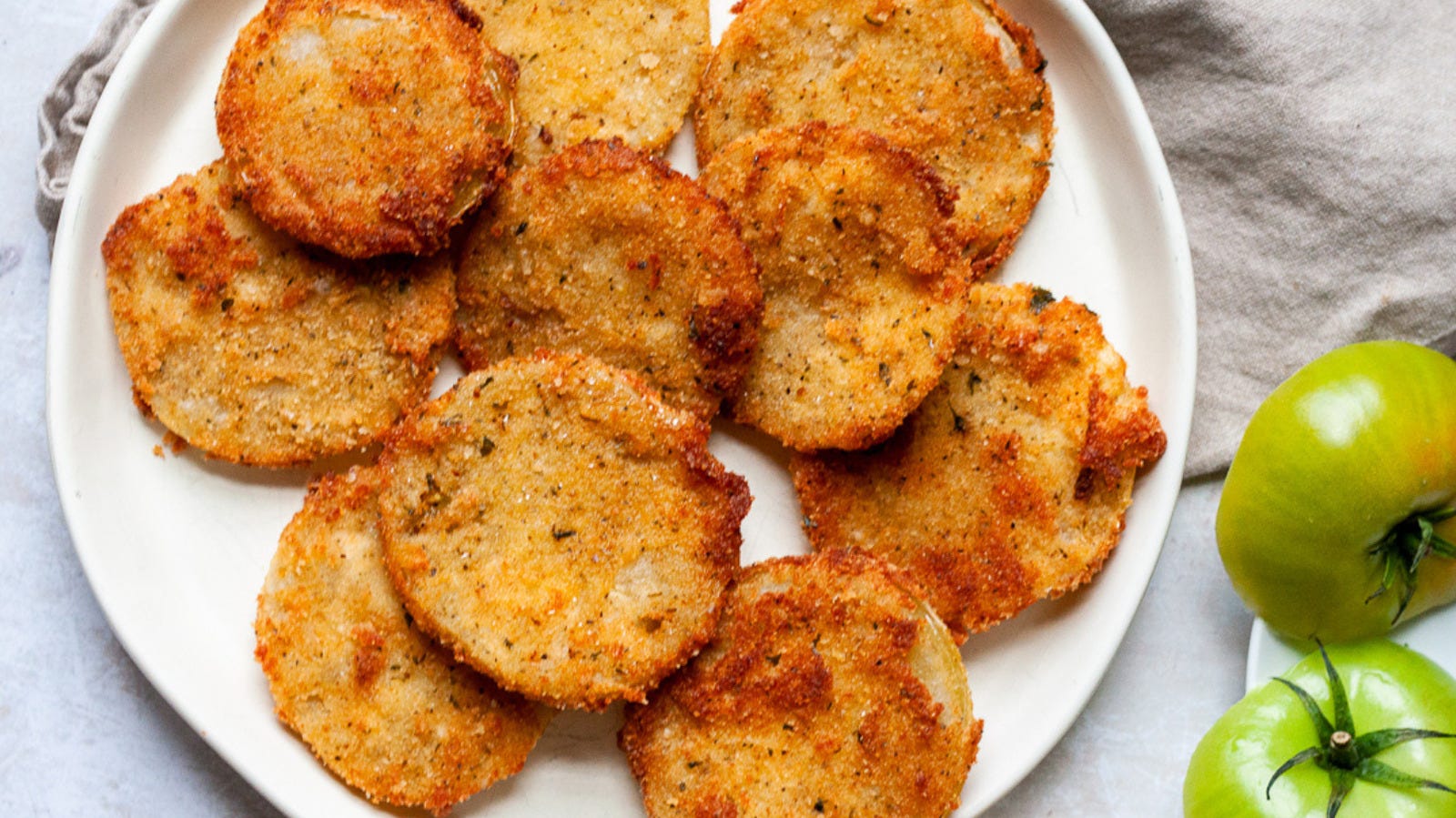 Certainly! Here's a recipe for the best fried green tomatoes:
Ingredients:
4 large green tomatoes
1 cup all-purpose flour
1 cup cornmeal
1 teaspoon salt
1/2 teaspoon black pepper
1/2 teaspoon paprika (optional)
2 large eggs
1/2 cup buttermilk (or regular milk)
Vegetable oil for frying
Salt and pepper to taste
Ranch dressing or remoulade sauce for dipping (optional)
Instructions:
Slice the green tomatoes into 1/4-inch thick rounds. Discard the ends.
In a shallow bowl, combine the all-purpose flour, cornmeal, salt, black pepper, and paprika (if using). Mix these dry ingredients together.
In another shallow bowl, whisk the eggs and buttermilk together until well combined.
Heat about 1/2 inch of vegetable oil in a heavy skillet or frying pan over medium-high heat. You can also use a deep fryer if you have one.
Dip each green tomato slice into the egg mixture, allowing any excess to drip off, and then coat it in the flour-cornmeal mixture. Press the coating onto the tomato slice to make sure it adheres well.
Carefully place the coated tomato slices into the hot oil, being cautious not to overcrowd the pan. Fry them for about 2-3 minutes on each side or until they are golden brown and crispy. You may need to adjust the heat to ensure they cook evenly without burning.
Remove the fried green tomatoes from the oil and place them on a paper towel-lined plate to drain any excess oil. Sprinkle them with a little salt and pepper while they're still hot.
Continue frying the remaining tomato slices in batches until they are all cooked.
Serve the fried green tomatoes hot as a side dish or appetizer. They are delicious on their own or with a dipping sauce like ranch dressing or remoulade.
Enjoy your crispy and flavorful fried green tomatoes! They make for a fantastic Southern-inspired treat.