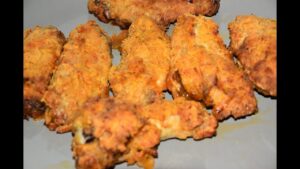 Dredge each piece of chicken through the breading mixture, ensuring it's evenly coated. You can repeat this step for an extra crispy coating.
Shake off any excess breading.

Air Fry the Chicken:

Lightly grease the air fryer basket with cooking spray to prevent sticking.
Place the breaded chicken breasts in the air fryer basket in a single layer. Do not overcrowd; you may need to cook them in batches.
Lightly spray the tops of the chicken with cooking spray to help them crisp up.
Cook in the air fryer at 375°F (190°C) for 20-25 minutes, flipping the chicken halfway through the cooking time. The chicken is done when it reaches an internal temperature of 165°F (74°C) and is golden brown and crispy on the outside.

Serve:

Once the chicken is cooked, remove it from the air fryer and let it rest for a few minutes.
Serve your spicy air-fried chicken with your favorite dipping sauces, a side salad, or coleslaw.
Enjoy your delicious and spicy air-fried chicken!