Air fryer tortilla pizza is a quick and easy way to make a delicious personal-sized pizza with crispy crust and your favorite toppings. Here's how to make it: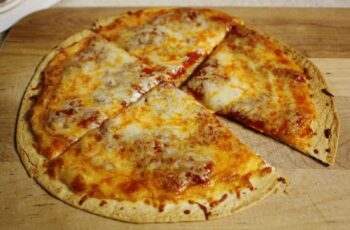 Ingredients:
1 large flour tortilla (burrito-sized)
1/4 cup pizza sauce or marinara sauce
1/2 cup shredded mozzarella cheese
Your choice of pizza toppings (e.g., pepperoni, sliced bell peppers, onions, mushrooms, olives)
Olive oil or cooking spray (for greasing the air fryer basket)
Dried oregano and red pepper flakes (optional, for seasoning)
Instructions:
Preheat your air fryer to 375°F (190°C) for a few minutes.
While the air fryer is preheating, assemble your tortilla pizza. Place the flour tortilla on a clean surface.
Spread the pizza sauce evenly over the tortilla, leaving a small border around the edges for the crust.
Sprinkle the shredded mozzarella cheese over the sauce, covering the entire tortilla.
Add your desired pizza toppings on top of the cheese. Be creative and choose your favorite ingredients.
Lightly grease the air fryer basket with a small amount of olive oil or cooking spray to prevent sticking.
Carefully transfer the prepared tortilla pizza to the preheated air fryer basket.
Cook the pizza in the air fryer for about 5-7 minutes, or until the edges of the tortilla are golden brown and the cheese is bubbly and lightly browned. The exact cooking time may vary depending on your air fryer model and the thickness of the tortilla.
Use tongs or a spatula to carefully remove the tortilla pizza from the air fryer and transfer it to a cutting board.
If desired, sprinkle dried oregano and red pepper flakes over the pizza for added flavor.
Let the pizza cool for a minute before slicing it into wedges.
Serve your air-fried tortilla pizza hot and enjoy!
Air fryer tortilla pizza is a quick and customizable meal that's perfect for a snack or a quick lunch or dinner. You can get creative with your toppings and have a delicious homemade pizza in no time.