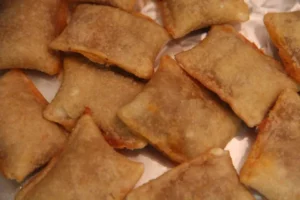 Air fryer pizza rolls are a delicious and convenient snack or appetizer that you can prepare quickly. They're crispy on the outside and filled with gooey cheese and your favorite pizza toppings. Here's how to make them:
Ingredients:
1 package of frozen pizza rolls (quantity depends on your preference)
Cooking spray or oil (for greasing the air fryer basket)
Instructions:
Preheat your air fryer to 380°F (190°C) for a few minutes.
Lightly grease the air fryer basket with cooking spray or a small amount of oil to prevent the pizza rolls from sticking.
Place the frozen pizza rolls in a single layer in the greased air fryer basket. Make sure they are not touching each other to allow even cooking.
Cook the pizza rolls in the preheated air fryer for 6-8 minutes. It's a good idea to check them halfway through the cooking time to ensure they're cooking evenly. The exact cooking time may vary depending on your air fryer model and the size of the pizza rolls.
When the pizza rolls are golden brown and crispy, carefully remove them from the air fryer using tongs or a fork.
Allow them to cool for a minute or two because the filling can be very hot.
Serve the air-fried pizza rolls with your favorite dipping sauces, such as marinara sauce, ranch dressing, or garlic butter.
Air fryer pizza rolls are a quick and tasty snack that's perfect for parties, game day, or as a fun treat anytime. Enjoy the convenience of air frying for a crispy exterior and a gooey, cheesy interior!