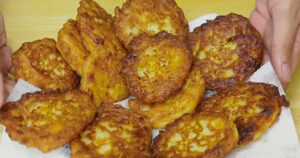 Sure, here's a recipe for Amish onion fritters:
Ingredients:
2 large onions, thinly sliced
1 cup all-purpose flour
1/2 cup cornmeal
1 teaspoon baking powder
1/2 teaspoon salt
1/4 teaspoon black pepper
1/2 cup milk
1 egg
Vegetable oil for frying
Optional: a pinch of cayenne pepper for some heat (if desired)
Instructions:
Start by heating a couple of inches of vegetable oil in a deep pan or Dutch oven over medium-high heat. You'll want it to reach 350-375°F (175-190°C).
While the oil is heating up, slice the onions thinly. You can separate the slices into rings.
In a mixing bowl, whisk together the flour, cornmeal, baking powder, salt, black pepper, and cayenne pepper if you're using it.
In a separate bowl, whisk the egg and milk together.
Pour the wet ingredients into the dry ingredients and stir until you have a smooth batter.
Once the oil is hot, carefully dip the onion rings into the batter, allowing any excess batter to drip off, and then gently place them into the hot oil. Be cautious to not overcrowd the pan, as it can lower the oil's temperature and make the fritters greasy. You may need to fry them in batches.
Fry the fritters for about 2-3 minutes per side, or until they are golden brown and crisp. You may need to adjust the cooking time slightly based on your oil temperature. Use a slotted spoon to remove the fritters and place them on a paper towel-lined plate to drain any excess oil.
Continue to fry the rest of the onion rings in the same manner.
Serve the Amish onion fritters hot, perhaps with a dipping sauce like ranch dressing or ketchup.
Enjoy your homemade Amish onion fritters!