Chicken Parmigiana sliders are a delightful twist on the classic Italian dish, Chicken Parmigiana. These mini sandwiches are perfect for parties, gatherings, or a fun meal. Here's a recipe for making Chicken Parmigiana sliders: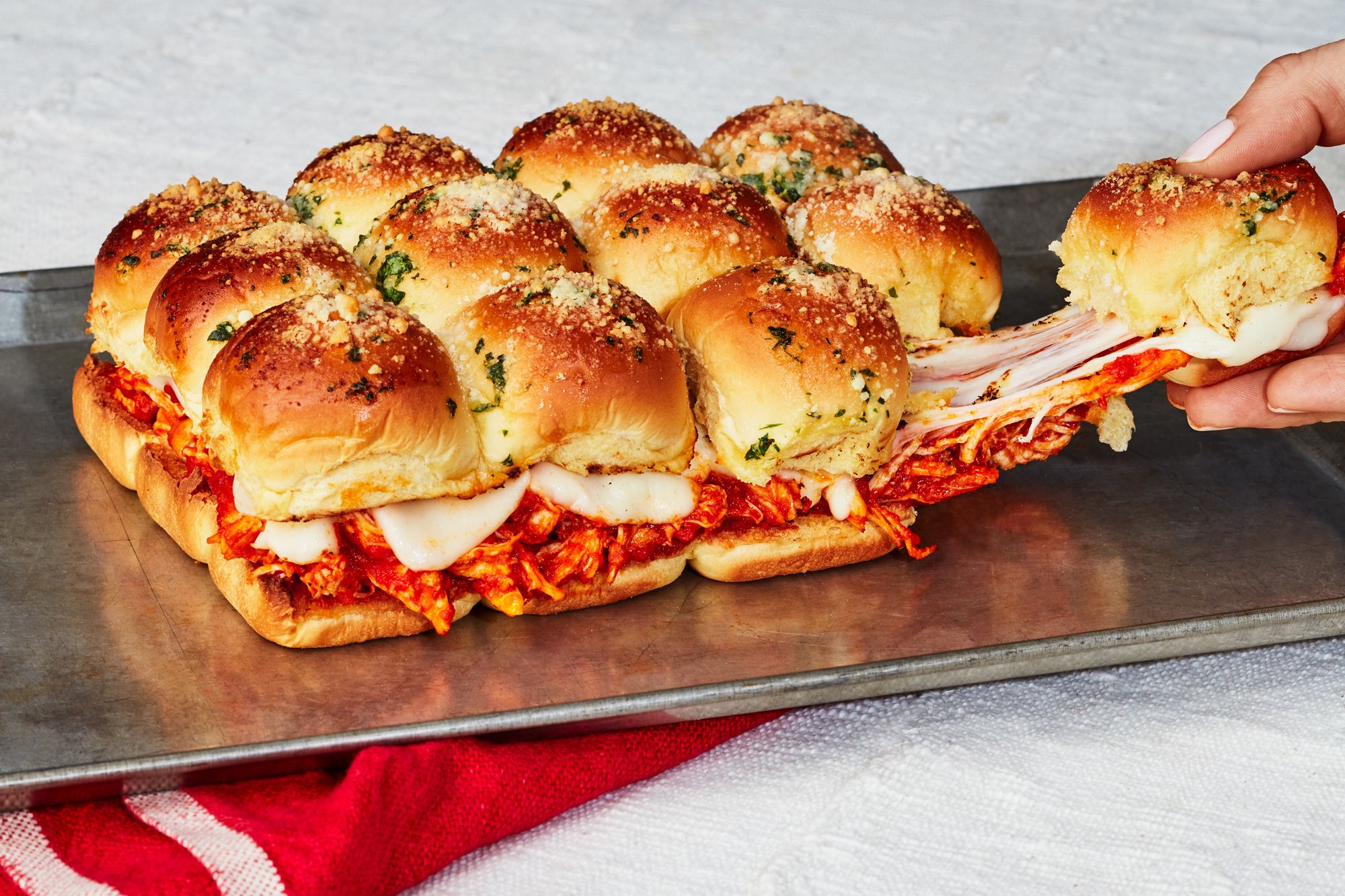 Ingredients:
For the Breaded Chicken:
2 boneless, skinless chicken breasts
Salt and black pepper to taste
1 cup all-purpose flour
2 large eggs
1 cup breadcrumbs (plain or seasoned)
1/2 cup grated Parmesan cheese
Cooking oil for frying
For the Marinara Sauce: 8. 1 cup marinara sauce (homemade or store-bought)
1 teaspoon dried basil
1 teaspoon dried oregano
Salt and black pepper to taste
For Assembling the Sliders: 12. Mini slider buns or rolls
Slices of mozzarella cheese
Fresh basil leaves
Additional grated Parmesan cheese (optional)
Optional toppings: sautéed onions, sliced bell peppers, or hot peppers
Instructions:
Preheat your oven to 350°F (175°C) to melt the cheese and warm the sliders at the end.
Slice each chicken breast into smaller pieces that will fit the size of your slider buns. Season the chicken pieces with salt and black pepper.
Set up a breading station. Place the flour in one shallow bowl, the beaten eggs in another, and combine the breadcrumbs and grated Parmesan cheese in a third bowl.
Dip each piece of chicken into the flour, then into the beaten eggs, and finally into the breadcrumb mixture. Make sure the chicken is coated evenly.
Heat cooking oil in a skillet over medium-high heat. Fry the breaded chicken pieces for about 3-4 minutes on each side, or until they are golden brown and cooked through. Place them on a paper towel to drain any excess oil.
In a small saucepan, heat the marinara sauce over low heat. Season it with dried basil, dried oregano, salt, and black pepper. Let it simmer for a few minutes.
Slice the slider buns or rolls in half. Spread a spoonful of the marinara sauce on the bottom half of each bun.
Place a piece of fried chicken on top of the marinara sauce.
Add a slice of mozzarella cheese on top of the chicken. You can also sprinkle some grated Parmesan cheese on top for extra flavor.
Place the sliders on a baking sheet and bake them in the preheated oven for about 5-7 minutes, or until the cheese is melted and bubbly.
Remove the sliders from the oven and top each with fresh basil leaves.
Place the top half of the slider buns on the sandwiches.
Optionally, you can add sautéed onions, sliced bell peppers, or hot peppers for extra flavor and texture.
Serve your Chicken Parmigiana sliders hot, and enjoy the Italian-inspired flavors in a fun and compact form.