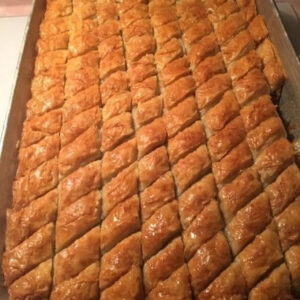 Baklava is a delightfl and sweet dessert that can make a perfect addition to your Christmas festivities. While it's traditionally associated with Mediterranean and Middle Eastern cuisine, it can be a wonderful treat to enjoy during the holiday season. Here's a Christmas-themed baklava recipe for you:
Ingredients:
For the Baklava:
1 package (16 ounces) of phyllo dough, thawed
1 1/2 cups of unsalted butter, melted
2 cups of mixed nuts (e.g., walnuts, pistachios, almonds), finely chopped
1 teaspoon ground cinnamon
1/2 teaspoon ground cloves
1 cup granulated sugar
1/2 cup water
1/2 cup honey
1 teaspoon vanilla extract
Zest of 1 orange or 1 tablespoon of orange zest
For Decoration (Optional):
Crushed candy canes or red and green sprinkles
Edible gold or silver dust for a festive touch
Instructions:
Preheat your oven to 325°F (160°C).
In a bowl, combine the finely chopped nuts with ground cinnamon and ground cloves. This will be the filling for your baklava.
Brush a 9×13-inch baking dish with melted butter. Place one sheet of phyllo dough in the dish and brush it with more melted butter. Repeat this process, layering one sheet at a time, until you have about 8 sheets layered.
Sprinkle a portion of the nut mixture over the layered phyllo sheets.
Continue layering phyllo sheets, brushing each one with butter, and adding a layer of nuts, until all the nut mixture is used.
Layer the remaining phyllo sheets on top, ensuring you brush each one with butter. You should end up with about 8 more layers on top.
Using a sharp knife, cut the baklava into diamond or square-shaped pieces. This is easier to do before baking.
Bake the baklava in the preheated oven for about 45-55 minutes, or until it's golden brown and crisp.
While the baklava is baking, make the syrup. In a saucepan, combine the sugar, water, honey, orange zest, and vanilla extract. Bring it to a boil, then reduce the heat and let it simmer for about 10-15 minutes. The syrup should thicken slightly.
When the baklava is done baking, immediately pour the hot syrup evenly over the hot baklava. This will make a sizzling sound.
Let the baklava cool and absorb the syrup, which may take several hours or overnight.
Once the baklava is completely cooled, you can decorate it with crushed candy canes, red and green sprinkles, and edible gold or silver dust to give it a festive Christmas appearance.
Serve and enjoy your Christmas-themed baklava!
This Christmas baklava is a delicious and visually appealing dessert that combines the traditional flavors of baklava with a holiday twist. It's sure to be a hit with your family and guests.