Certainly! Here's a simple recipe for making air fryer salmon patties: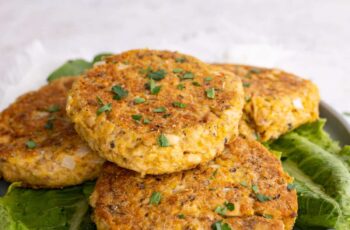 Air Fryer Salmon Patties:
Ingredients:
1 can (14.75 ounces) pink salmon, drained and flaked

1/2 cup breadcrumbs

1/4 cup finely chopped onion

1/4 cup finely chopped red bell pepper

2 tablespoons mayonnaise

1 tablespoon Dijon mustard

1 teaspoon lemon juice

1 teaspoon Old Bay seasoning (optional)

1/4 teaspoon black pepper

1 large egg, beaten

Cooking spray or olive oil spray
Instructions:
Prepare the Salmon Mixture:

In a large bowl, combine the flaked salmon, breadcrumbs, chopped onion, chopped red bell pepper, mayonnaise, Dijon mustard, lemon juice, Old Bay seasoning (if using), black pepper, and beaten egg. Mix well to combine.

Form Patties:

Divide the mixture into equal portions and shape them into patties. The size can vary based on your preference.

Preheat the Air Fryer:

Preheat your air fryer to 375°F (190°C).

Spray Patties with Cooking Spray:

Lightly spray the air fryer basket with cooking spray or use olive oil spray.

Air Fry the Salmon Patties:

Place the salmon patties in the preheated air fryer basket, making sure they are not overcrowded.

Cook for about 10-12 minutes, flipping the patties halfway through the cooking time, or until they are golden brown and cooked through.

Serve:

Once the salmon patties are cooked, remove them from the air fryer and let them rest for a few minutes before serving.

Optional Sauce:

Serve the salmon patties with your favorite dipping sauce or a squeeze of lemon juice.
Enjoy your air-fried salmon patties! Adjust the cooking time based on your specific air fryer model and wattage.